Fleet managers
No matter your business demands or fleet ambitions, you'll find a better way forward with Audi. And with a wide range of plug-in hybrid (TFSI e) and fully electric (e-tron) models, we bring you everything your business needs to minimise emissions and reduce operating costs.
And thanks to Audi's advanced safety features, smart connectivity, and, of course, high specifications, you'll know that your drivers are as safe and comfortable as possible.

From the small and compact A1, to the electric e-tron and the luxurious of the A8, our range brings together spirited sportiness and everyday practicality. Whatever your needs, Audi means business.
Try one yourself
Getting behind the wheel is the best way to see how electric fits your lifestyle - whether that's the daily commute, a long business journey during the working week or a leisurely trip at the weekend. With plenty of advice and tips covering everything from maximising the electric range to charging, we'll help you and your drivers make the switch.
Getting your infrastructure ready
As your fleet partner, we'll make charging up your fleet easy and accessible. Our e-tron Charging Service offers access to thousands of charging points across the UK and the rest of Europe with just one card. For charging at home, all new fully electric customers are eligible to receive a 7kW wall box and installation for only £599 RRP when ordering an e-tron².
Support for drivers who want to make the switch
With more and more employees wanting to make the switch, salary sacrifice means you can offer all the benefits of an electric Audi to employees who don't currently qualify for a company car. As well as helping you reduce emissions and meet your corporate social responsibility goals, your business also benefits from reduced National insurance contributions.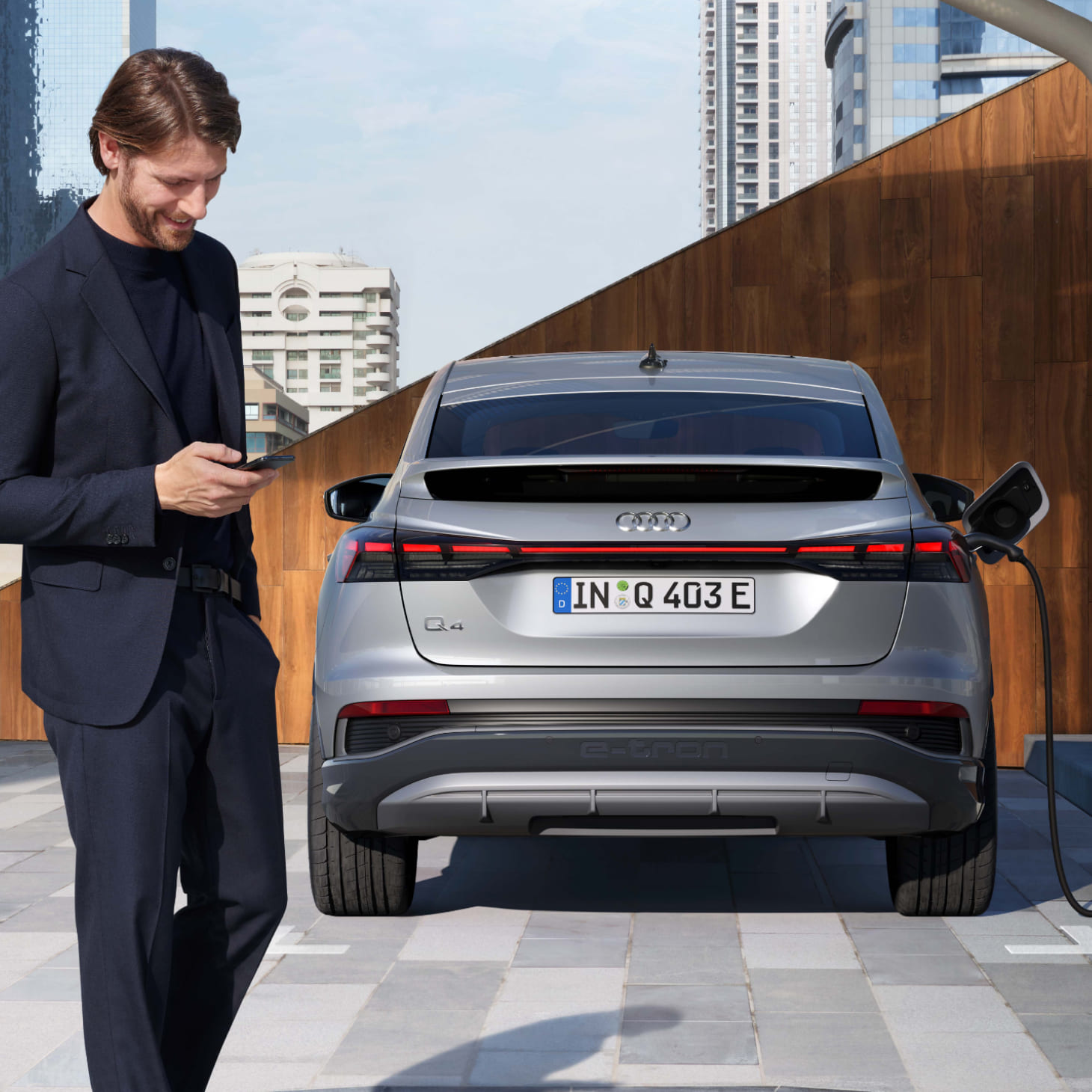 Home-charging solution for fleet vehicles
Through our partnership with award-winning Mina, you can benefit from a home charging payment solution that makes reimbursement much simpler. One accurate payment for the drivers' energy used whilst charging at home directly to their energy provider. That means no more mileage calculations, receipts or expense claims. For more information please contact the Audi Fleet team.
Audi and the environment
Building electric cars that help you achieve progress towards your net zero ambition is only a part of our sustainability journey. Our goal is to achieve carbon neutrality across our value chain by 2025 - from our global manufacturing plants to your local Audi Centre. To demonstrate our commitment to this, Audi manufactures the Q4 e-tron and the Q4 Sportback e-tron with net-zero carbon emissions.