One card. Thousands of
charging points.
Enjoy access to almost 75% of the UK's public charging points¹ with one card, including some of the UK's leading charging operators like BP Pulse and Pod Point.

The e-tron Charging Service (eCS) gives you access to thousands of charging points across the UK and rest of Europe. You can choose between two tariffs (City and Transit) which will give you easy access to these charging stations through one charge card/app, all under one single contract.
e-tron offer
1 year free Transit Tariff subscription² and £150 charging credit³ for all new Q4 e-tron, Q4 e-tron Sportback, e-tron, 
e-tron Sportback and e-tron GT customers. Customers who purchase a used car can also sign up for an eCS card. The complimentary subscription and charging credit is exclusively for customers purchasing a new e-tron.
How to sign up for the e-tron
Charging Service
Before you follow the steps below you will need to have a myAudi account.
Benefits of using the e-tron 

Charging Service
Two simple tariffs to choose 

from
You can choose from either a City or Transit tariff. Simply pick the one that suits your charging needs.
BP Pulse optional subscription pack
BP Pulse is one of the UKs largest charging networks. Whilst BP Pulse Instant Access is included in both the City and Transit tariffs, you can enjoy discounted rates when you add the optional BP Pulse subscription pack, at an additional monthly charge.
UK charge point operators
In the UK we have partnered with the following charge point operators, giving you access to thousands of charging stations across the country⁶. New partners and charging stations will be integrated continuously. For the most up to date information please check the eCS charging stations on the eCS interactive map, navigation or myAudi app.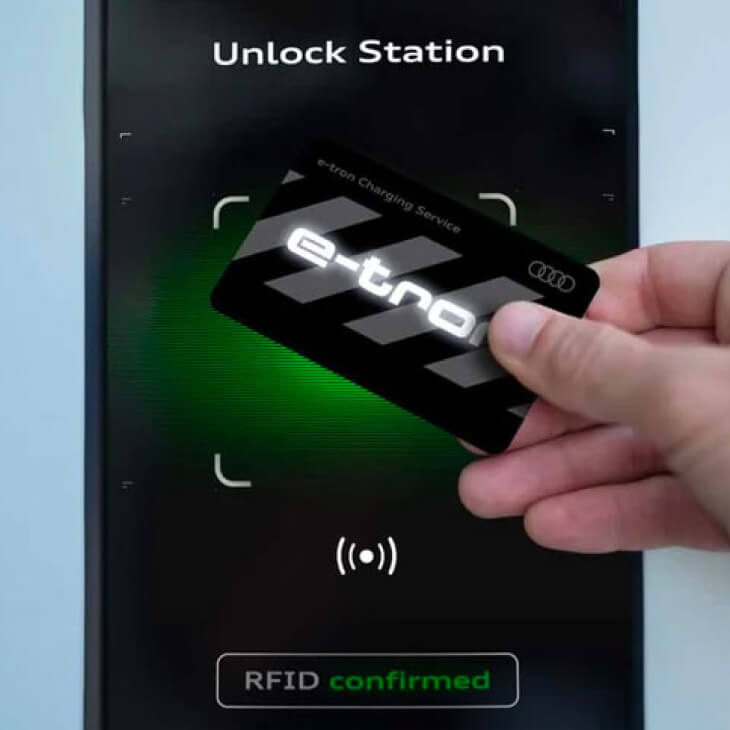 Pay and charge at charging stations
For the majority of charging stations, all you need is your e-tron charge card. For some providers like Pod Point and Charg.gy, the chargers don't have the ability to read cards so you will need to use the myAudi app⁷ (you will need to ensure your car is linked to your account).
How to use e-tron Charging
Service
We've created the below short film to help you understand how to use the e-tron Charging Service.
Its easy to set up your contract. Simply view the tariffs and sign up via the e-tron Charging Service portal.